Introduction & Benefits
Cygnet TaxTech's e-Way Bill solution is powered with automation capabilities to help taxpayers push data to the NIC portal for a real-time e-Way Bill number generation in bulk and synchronize it with the ERP.
Single & bulk automated e-way Bill generation
Track & update the status of e-Way Bills
Forward & backward integration with business systems
Reconciliation of inward and outward e-Way Bills with GSTR 1 & 2A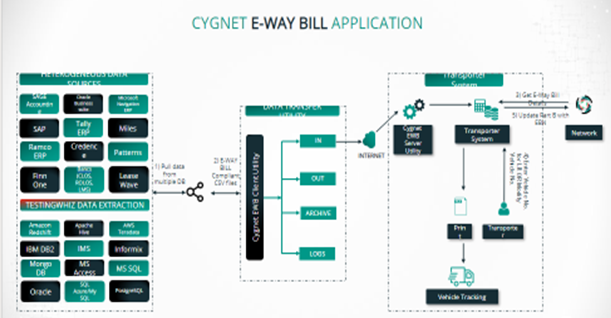 This solution is best for:
Enterprises
A multinational consumer goods corporation accelerated e-Way Bill generation with Cygnet Tax Tech.
SME/MSME
Generate e-Invoices and e-Way bill seamlessly to stay compliant.
CA Firms
Generate and cancel e-Way bills at speed for your clients with Cygnet Tax Tech's e-Way bill solution.
ERP providers/Integrators
Learn how companies can integrate Cygnet Tax Tech's e-Way bill solution with their systems.
Testimonials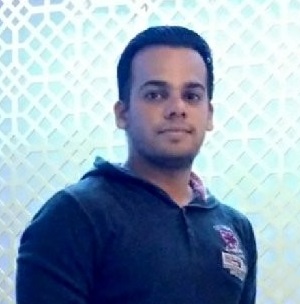 Cygnet e-invoicing and GST Filing processes are very robust and accurate. We have faced zero failures so far. The API integrations have been seamless. The team at Cygnet has been very supportive and always available for any type of queries. From initial discussions till go live phase they have been helpful and understanding. The portal is very descriptive and easy to understand for all the users. Thanks, team, for all the efforts put into the solutioning and designing, making our processes smooth and fast.
Mr. Vaibhav Chaudhary
Associate Director | Elastic Run
e-Way bill automation solution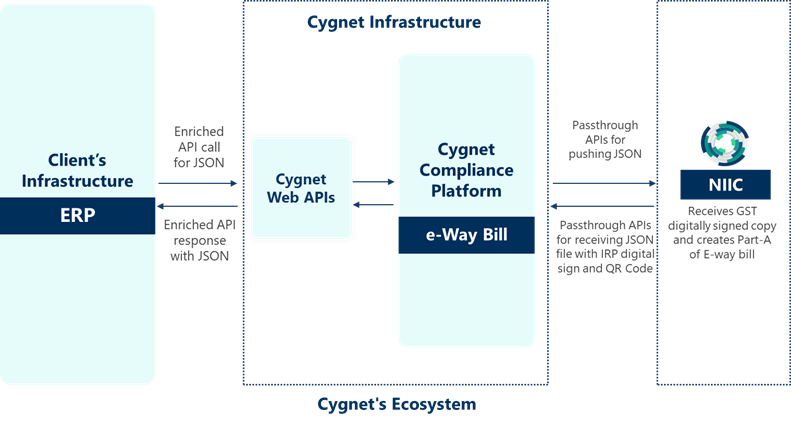 Data extraction & conversion module
Extract, convert, cleanse and massage transactional data scattered across multiple systems to prepare it as per the government prescribed format with Data extraction & conversion module.
SFTP based integration
Enable batch-wise data exchange between ERP or Accounting systems to drive multiple financial and indirect tax-related activities with SFTP based integration
API based approach
Integrate our solution with any existing ERP and accounting system hassle-free via enriched API results for enhanced data security and quick data transfer.
Data validations
Enhance data accuracy and thus quality with 400+ validation checks.
Backward integration
Enable backward integration approach to map e-Way bill status as well as e-Way bill number into the business systems for reconciliation & record keeping purposes.
Value added offerings
Unified portal
Gather data from disparate systems, enable data validation process and improve data accuracy to automate e-Invoice and e-Way bill, GST return filing, and other compliance need using a single portal.
Accounts payable
Automate the account payable cycle, manage invoices in one place and streamline the vendor payment process for enhanced financial decision making.
Purchase invoice digitization
Automate the purchase digitization approach to streamline posting purchase entries in the existing system ensuring vendor reconciliation, data accuracy and security.